Pind daan as per Hindu belief is a ritual to offer homage to the departed soul. Pind daan in Gaya and other places is a very important Hindu ritual and is performed by the relatives of the person who left for the heavenly abode.
The meaning of pind daan:
A pind as per Hindu religious text is something that is in a circular form. And, this is how pind daan got its name in which food made in circular-ball form is offered to the soul by his/her relatives during shradh karma.
The material that is used to prepare pind during shradh is made up of kneading rice or barley flour. These pinds are made in circular form and is offered to the deceased during pind daan karma.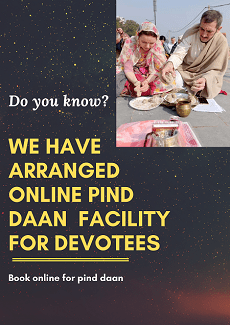 Are you looking for ONLINE pind daan? This is how you can do online: Read this guide
Importance of Pind Daan
Below are some reasons for pind daan being so important rituals:
Post-death, when souls are still wandering on earth get peace when pind daan is offered to them by their relatives.
Pind daan brings freedom to deceased those having a materialistic inclination and finding it difficult to leave the earth and their loved ones.
It is believed that post pind daan souls are relived from the torchers of hell leading him/her to Moksha.
Relatives of the deceased offering pind daan receive blessings from the soul, which is believed to have the strongest positive influence in one's life.
Pind daan brings success, peace, and prosperity to people's life.
Pind daan places
There are many places across India that has significance in the Hindu religion for Shradh karma.
Here are some of the famous places in India:
Gaya, Bihar (Read more)
Bodhgaya, Bihar
Varanasi, Uttar Pradesh
Allahabad, Uttar Pradesh
Ayodhya, Uttar Pradesh
Haridwar, Uttarakhand
Prayraj, Uttarakhand
Ujjain, MP
​Jagannath Puri, Odisha
Dwarka, Gujrat
Pushkar, Rajasthan
Among all, Gaya Ji is regarded as the most sacred place for pind daan.
Here is the detailed guide of Gaya Ji and it's significance: About Gaya Ji
Importance of Pind Daan in Gaya: Pitru Paksha Mela
Here are some of the reasons as to why Gaya is so important for pind daan as per Hindu belief:
Gaya has a strong rich history, let it be ancient, middle, or modern. Particularly, for Hindu, Gaya is the land of salvation.
As per Buddhist belief, Gaya is called the land of enlightenment when the Lord Buddha preached his teaching under the famous Banyan tree located in Bodhgaya.
Bodhgaya, not so far from Gaya (around 10 KM) is another important place for Hindus for pind daan offerings.
As per Hindu's religious text, Lord Rama visited Gaya Ji around 12 lakh years ago during Treta Yuga to offer pind daan for his father Dasaratha.
Gaya organizes Pitru Paksha Mela (Ceremony) every year for 18 days during the month of monsoon seasons (September-October) for pind daan.
Lakhs of people around the world visit Gaya Ji during the months of pitru paksha mela to offer pind daan.
During Mahabharata, Gaya was known by the name of Gayapuri and got its name from the name of a demon called Gayasur who got the blessing of Lord Vishnu.
In the heart of Gaya flows the famous Falgu river which has the significance of offering pind then at its bank.
Gaya is very famous for the temple called Vishnupad which the prime location for people to offer pind daan.
How pind daan is done?
Pind daan is generally offered by the eldest male family members in the family. But in some cases, females are also allowed.
Pind daan is done after taking a holy bath at the river Falgu, Ganga, etc according to the place it is being performed.
It is required to wear white holy clothes during shradh karma like traditional dhotis, kurta, etc.
Pind daan is done offering rice, jaggery, sweets, etc under the guidance and mantras of brahmins.
The one who is performing shradh karma offers food and clothes to pandits and receive blessings from them. It is believed that pitra or souls get satisfied when pandits are fed during pind daan.
There are 43 vedis in Gaya which are covered during the pind daan process. The number of vedis to be covered is based on the types of pind daan your are performing.
Shradh should always be done in the afternoon and is regarded as the most appropriate time.
Famous places and vedis in Gaya for Pind Daan
There are many places in and around cities that are covered by devotees for pind daan.
Some of the famous places and vedis in Gaya for Pind Daan are:
Vishnupad Temple
Pind Vedis
Gaya Sarovar
Garhyapatyaagni
pad
Falgu River
Waitarani Sarowar

Brahma pad
Brahmakund
Suryakund
Surya pad
Pretseela
Rukmini Talab

Indra pad

Ramsheela
Brahma Sarowar
Chandra pad
Gadhadhar Vedi
Pitamaheswar
Rudra pad
Sharswati Vedi

Godawari


Sitakund, Ramgaya , Gaytri Ghat, Ramgaya
Akshay wat

Brahmakund, Bodhitaru, Kaakbali, Jihwal
Ramsheela
There are other places as well which is not listed in the table.
Pind daan cost and expenses list
Here is where and how you may incur pind daan cost in order to pay homage to the departed soul.
When it comes to pind daan there are different expenses you have to keep in mind and it actually varies with the individual needs.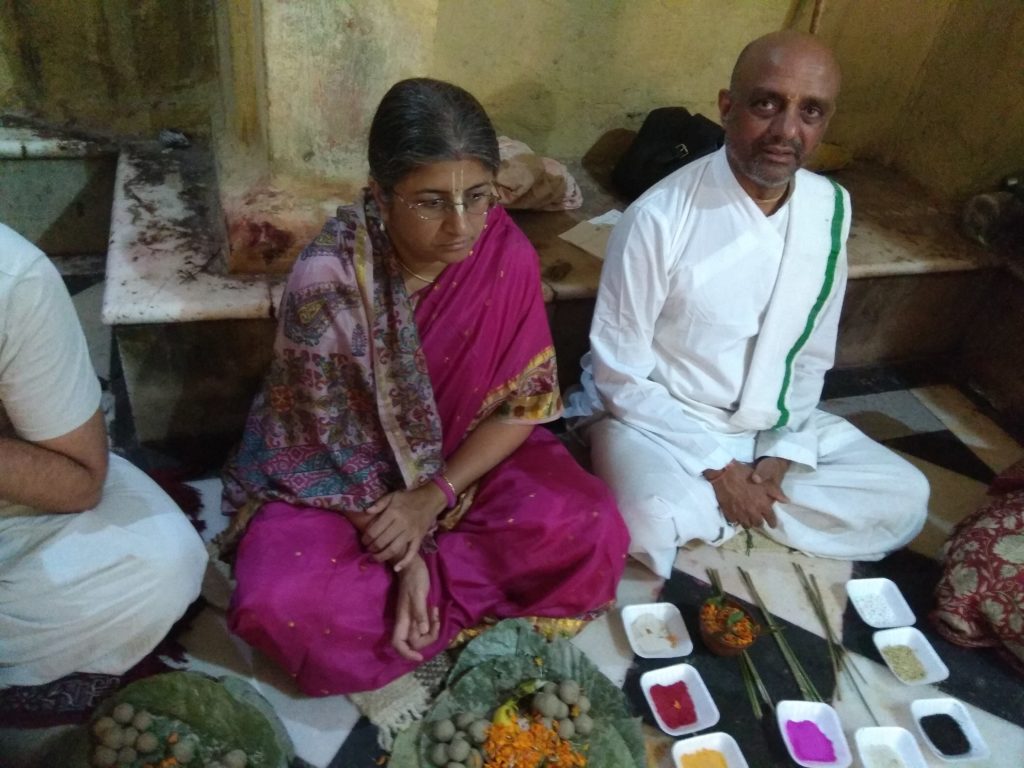 Here are some list of expenses.
Pind daan cost estimation
This list will help you get some ideas about where you may be spending money for pind daan
Traveling expense:
Your mode of transportation from your place to Gaya & vice-versa. Your expense may vary based on your choice of transportation
By Airways
By Train
By Bus
By rented car
By your personal car or bike
The local mode of transportation available in Gaya. This is the expense list when you visit different local places in the Gaya for pind daan.
Local transportation in Gaya
By rented car
By auto
By city buses
By rickshaw
By E-rickshaw
Accommodation expenses:
Hotels
Dharamshala
Iskcon Gaya temple rooms
Homestay
Food expense:
Restaurant in Gaya
Iskcon Govind's Restaurant
Gaya pind daan cost by Iskcon Gaya: An example
Package name
Gaya Shradh
Tripindi
Narayan Bali
Package price

INR 15,000
Rs 21,000 (During Pitra Paksh)
INR 25,000
Rs 31,000 (During Pitra Paksh)
INR 30,000
Rs 36,000 (During Pitra Paksh)
Package details
1. Brahman bhojan
2. Dakshina
3. Sankalp
4.Paraphernalia
5. Pind Daan at Vishnupad, Akshay Bat, Falgu river
6. Deluxe accommodation
1. Brahman bhojan
2. Dakshina
3. Sankalp
4. Paraphernalia
5. Pinddaan at Vishnupad, Akshay bat, Falgu river
6. Deluxe accommodation
1. Brahman bhojan
2. Dakshina
3. Sankalp
4. Paraphernalia
5. Narayan Bali Puja, Pinddaan at Vishnupad, Akshay bat, Falgu river
6. Deluxe accommodation
Pandit Ji charges for pind daan
This may vary to one's particular requirements. Charges may vary here based on how many vedis at Gaya Ji you want to visit for pind daan.
Four vedis in Gaya are visited and it gets completed in a few hours. For all 43 vedis, it takes around 16-17 days.
It may cost you anywhere around as low as approx. 100 rupees to a few thousand of rupees, 1500, 1200, 10,000, etc
Can women do pind daan at Gaya?
The quick answer is "yes", ladies can offer pind daan. This is the most common question asked by many people.
The long answer is in the video below where Pandit Jagdish Das of Iskcon Gaya has explained it beautifully.
He has explained taking the example of Mata Sita who visited Gaya to offer pind daan for King Dasaratha.
Further in the video, you will find that why Akshay Vat holds so much importance in Gaya for pind daan.
Read this guide: How to reach Gaya Ji for pind daan
Pind daan in Gaya during Covid 19 Lockdown
Some groups of people in Gaya are helping people to do the Shraddh Karma during Lockdown. It was a critical time for everyone and people were unable to move to places for pind daan.
This is why people like Pt. Jagdish Shyam Das are helping people for pind daan during the Covid situation.
Read more about E-pind daan
Here is the detail video in which he is explaining about his initiatives to help people do the shradh karma.
View the Hindi video below
2. View the English video below
Hope, this guide on pind daan helped you gain some important information about the importance of pind daan in Hinduism including famous places and different charges involved.
In case, you need more assistance for Gaya Ji pind daan, do contact us and we will be happy serving you.