Pind daan Gaya Services for shradh
View all pind daan services offered by Iskcon Gaya
Go to Pind Daan Karma
Pind Daan Karma
Pind daan is done when anybody in the family has died. It is a ritual in which food and clothes are offered to the departed soul. We arranged pandit ji who can help you with pind daan karma.
Go to Online pind daan booking for Gaya Ji
Online pind daan booking for Gaya Ji
Book online for pind daan at Gaya Ji. Many people find it convenient booking online for pind daan in advance and choose a package as per their requirement before visiting Gaya Ji
Go to Pitru Dosh Nivaran
Pitru Dosh Nivaran
Pitru Dosh Nivaran consists of the offering of food and clothes to Brahmins and all other rituals, Pitra Aradhana, tarpan Karma. To get rid of its ill effects, we help you do all the necessary karma.
Go to Kalsharpyog Pooja
Kalsharpyog Pooja
Kalasarpa Dosha can bring a threat to the health, finances, and prosperity of people. Get in touch with us to know more about how we can can help you to get rid of this dosha.
Fooding
At Iskcon, we have our very own pure veg restaurant at Govinda. We take care to offer you the purest form of food with love.
Go to Transportation
Transportation
As per your preference, we can arrange local transportation ranging from rental cars, auto-rickshaw, e-rickshaw, etc.
Go to Site Seeing
Site Seeing
Do not worry if you want to tour Gaya from pind daan or travel the city. Our guides will help you with all the necessary arrangements.
Accomodation
Accommodation is the biggest challenge. Rest assured we have all the necessary tie ups with local hotels in Gaya for you.
Gayaji Pind daan need
Pind daan Karma in Gaya
Why there is need for pind daan in Gaya?
Gayaji pind daan is a Hindu ritual to bring salvation to departed souls. People all over the world visit Gaya Ji for pind daan. It is believed that departed souls visit Gaya Ji waiting for their family members to offer them food and attain peace post-death. So, it is a mandatory ritual for every Hindu to perform Gaya Shradh Karma for their passed ancestors. Once, this ritual is done successfully it is believed that souls get salvation and bless the person and his family with peace, prosperity and wealth in life.
September 1, 2020, to September 16, 2020
Best day for Pind daan
When to do pind daan in Gaya?
Devotees believe that pind daan during pitra paksha mela is the best day to offer pind daan.
---
Below are the reasons for the importance of pind daan in Gaya:
Gaya has a strong rich history, let it be ancient, middle, or modern. Particularly, for Hindu, Gaya is the land of salvation.
Lakhs of people around the world visit Gaya Ji during the months of pitru paksha mela to offer pind daan.
Bodhgaya, not so far from Gaya (around 10 KM) is another important place for Hindus for pind daan offerings.
As per Hindu's religious text, Lord Rama visited Gaya Ji around 12 lakh years ago during Treta Yuga to offer pind daan for his father Dasaratha.
Gaya organizes Pitru Paksha Mela (Ceremony) every year for 18 days during the month of monsoon seasons (September-October) for pind daan.
In the heart of Gaya flows the famous Falgu river which has the significance of offering pind then at its bank.
Gaya is very famous for the temple called Vishnupad which the prime location for people to offer pind daan.
More about pind daan
Here is a video by Pandit Jagdish Shyam of Iskcon Gaya explaining about pind daan
We spread smiles with our offerings
Where to stay and eat in Gaya for pind daan?
Where to stay in Gaya for pind daan?
When travelling to Gaya ji, it is very difficult for a new visitor to find good hotels and restaurants in Gaya Ji. Therefore, we have arranged some best hotels in Gaya for your next stay. At Iskcon Gaya we have special room at temple premises for your stay during pind daan. Not only hotels, we have our own pure veg restaurant in Gaya at "Govinda's".
Pind Daan Blog
Find everything you need to know about pind daan in Gaya.
Here is the detailed explanation of pitru paksha 2021 shradh karma. Meaning of Pitru Paksha Pitru Paksha is a 16 lunar day auspicious period as per the Hindu calendar in which pind daan is offered to deceased by their family member. Shradh karma during pitri paksha starts from Bhadrapada or Shradh Purnima and goes up Read more about Pitru Paksha 2021: Shradh Karma Mela In Gaya[…]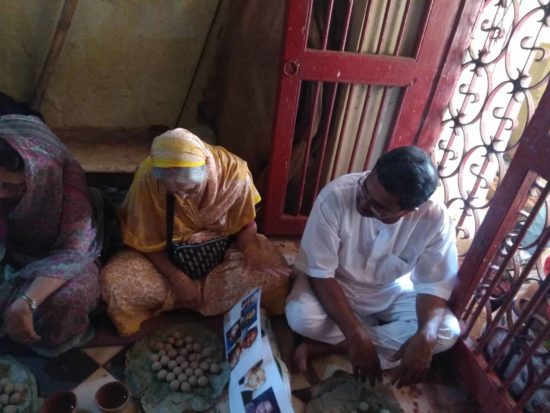 Previous
Next
Get in touch
Feel free to get in touch with us